…
…

Reptilica
Reptilica is partly animation and partly a film where real people perform. It Starts with a doll which is animated with the stop motion technique, she is searching through the many dry leaves that rest on the floor, something she has seen or felt passing by, but she can't seem to find it.
Other scenes in the movie introduce small pink worms falling on a group of ivy leaves, these are the disturbing presence that bother the doll as they sneak under the leaves, never letting themselves to be seen.
…
…
…
Cyanide: running towards the void
…
My film Cyanide has had a peculiar beginning. It originated from a period of my life of extreme depression, and uncertainty, and it was an action I was performing every day that made me think about developing the more predominant images of this film.
…

…
The

Checkered Tunnel
…
The Checkered Tunnel is a animation made entirely with 3D software. This short movie represents a fragmented space made of a checkered tunnel where the squares that fill its walls, floor, and ceiling alternate from red to white (the colour red is a metaphor for trauma).
At the opening of the piece the point of view of the spectator (the camera) is turning on itself in a chequered room with a missing wall leading to a black void.
…
…
 16 mm by Barbara Agreste
…
I remember I was in the laboratory, it was a bright day of March or April, maybe May, the weather was warm, and I was with my friend Alex working on those very large tables in a wonderful printing facility room in KIAD college of Art. I was unrolling a long 16mm transparent film strip, and close by on the table I had collected and placed down carefully so many petals, Continue reading →
…

…
The Tower Trilogy
…
 The Tower Trilogy has three titles that originated in Italian: "La Torre, Le Formiche, Lo Specchio" and they translate this way in english : "The Tower, The Insects, The Mirror". This animation is made with 16 mm film, and DV video, and it is very abstract although some figures appear on the screen at some points.
…
…
Rain

Synopsis:
In this video the Rain is made out of blood: a constant red rain falls on the vegetation of the town.
Here the concept of violence is not expressed literally with scenes of cruelty, but it is symbolically represented by the never ending rain that exists through the all duration of the film. This video does not present a resolution to this sad scenario, there are only few moments in which the rain stops, and leaves violently shaken by the wind moving in slow motion inhabit the screen.
…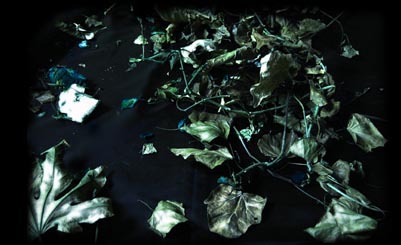 …
Filmmaking
…
Barbara Agreste's Filmmaking

…
In my artwork I always alternate the figure of a real woman to the one of a doll. Reptilica is a good example of it: the real woman is always appearing in fast cuts, and close ups, small parts of her body, usually feet, legs and hands are shown in the frame.
The doll on the other hand appears in her entire figure: there is a rich variety of objects that can be put beside her, and it is very easy to create a setting using miniature elements, it also becomes more interesting to to look at weird reproductions, or distorted reflections of what surrounds us, like if the film frame and what it contains became a parody of the real world.
…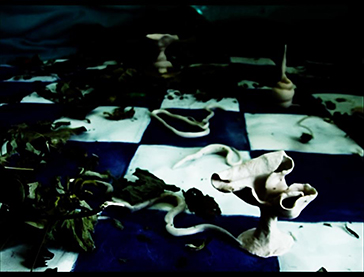 …
Barbara Agreste's animation short "Reptilica" has been recently transferred to film.
…
 Reptilica was made in 2005.
…
To produce this animation Barbara Agreste rented a digital camera, and built a box about one meter long and eighty centimeters high using wood sticks, plywood sheets, and painting a sheet of paper to make a multifaceted floor. That way Reptilica begun, with "fimo" plastic that was used to sculpt worms, and a lot of dry leaves, flowers, and seeds thrown at the set to decorate a sinister and surreal closed environment.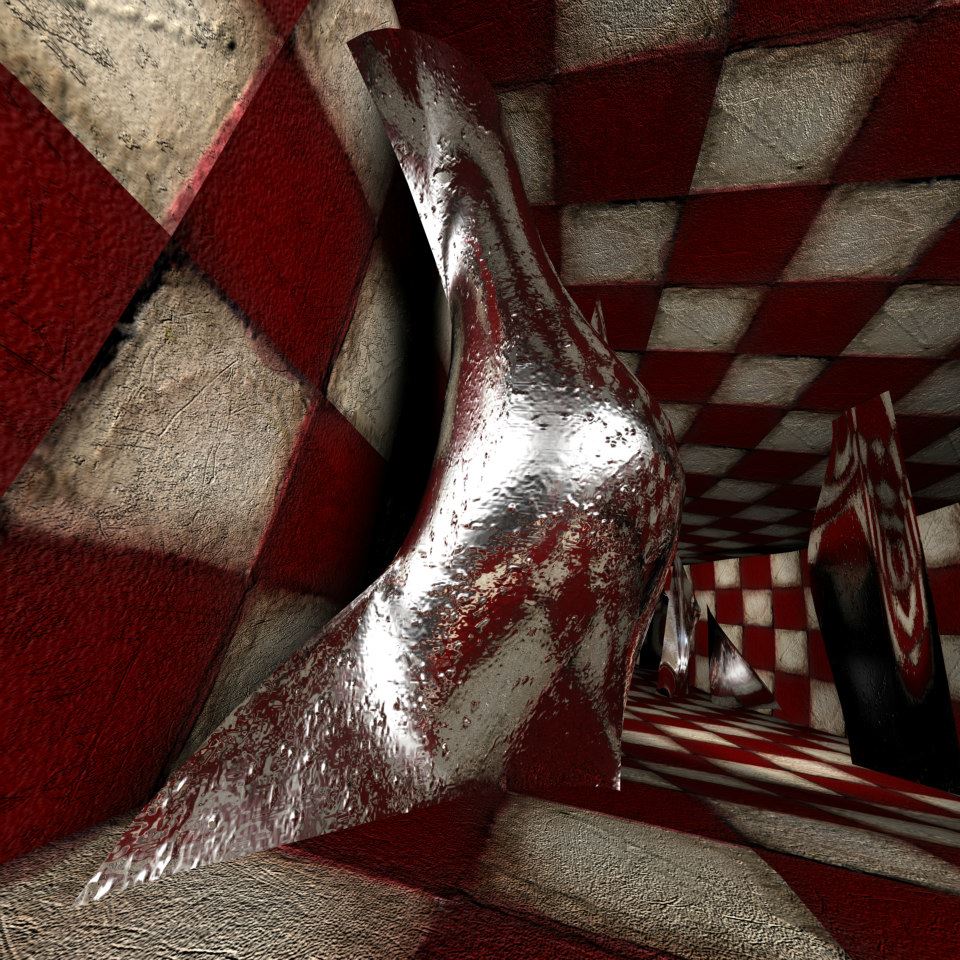 Recognizing a puzzle.
Mosaics like a puzzle are there because someone needed to reconstruct a complete visible picture with tiny fragments of color found in the soil coming form an ancient world.
Chessboards are like mosaics in Barbara Agreste's work: walking into the right tile bends the space of a dream to a safe exit, and stepping into the wrong spot opens the door to a repellent trip, a place infested with insects and worms.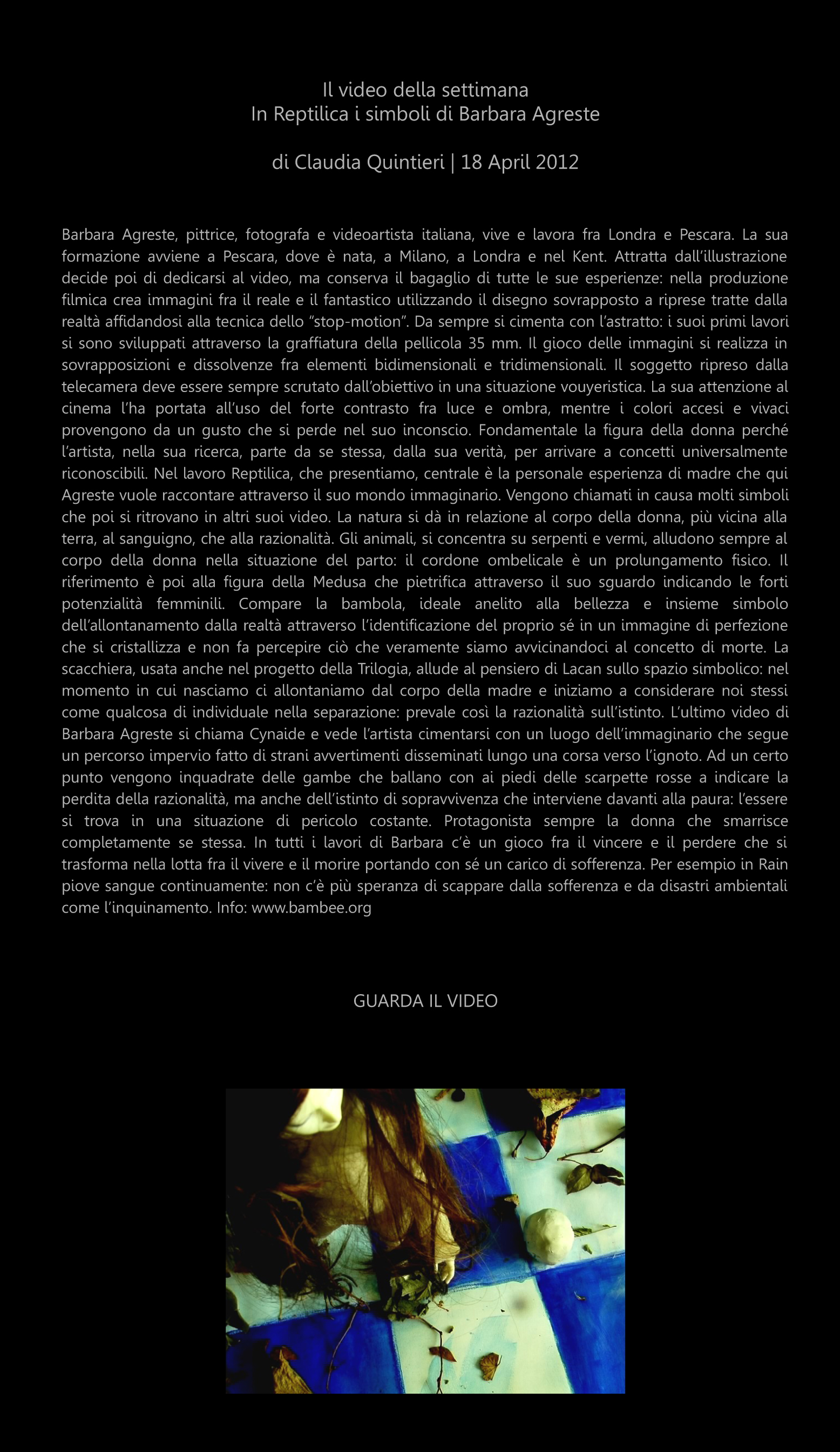 …
"In Reptilica i simboli
di Barbara Agreste"
…
Video of the week:
"In Reptilica Barbara Agreste's symbols"

Review by Claudia Quintieri | 18 June 2012
…
Barbara Agreste loved art ever since. Her formal training begun at the art College of her town, and after that she lived in Milan for some time attending a Set Design course in Brera Academy.
…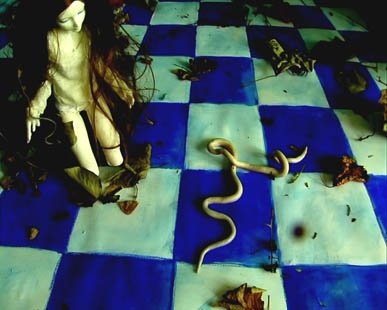 (The image above refers to the short animated film "Reptilica")
…

In 1993 she moved to the UK where at first she took contemporary dance classes, and performed in dance companies; but after two years she returned to the visual arts enrolling at the University of Kent.