Poisoned Ivy
…
About Barbara Agreste
…

…
Poisoned Ivy
Barbara Agreste, post surrealist artist, her artwork takes the viewer into a dreamy world full of tricky tiles, falling flowers, and sharp shards.
She blends poisoned ivy to the image of Ophelia, showcasing a doll as the best example of her strange way of conceiving beauty: never flaunting, discreet and androgynous, part of a concealed world immersed in thriving nature and cold swamps, a fragile universe of subtle ethereal pain and melancholic moods.
Barbara Agreste disseminates fallen petals, disconnected shiny leaves, and fragments of mirror along impervious paths, leading the viewer of her video art, and short films to a journey characterized by the instability of walls and floors, and by the dazing alternating colours of unsteady tiles. There is always danger in these adventures, uncanny places of hidden eyes, or architectures built with the special purpose of causing accidents to the passengers. It is nature the tricky environment, full of leaves and blood, but this natural lanscape is also magnified and remoulded: it is not a totally true vegetation that we see, but rather a genetiacally modified one, a distorted natural proliferation, reminiscent of the cinematic settings, assembled like a labirinth hiding too many things, leading to a previously arranged scene.
Never trust your eyes.
…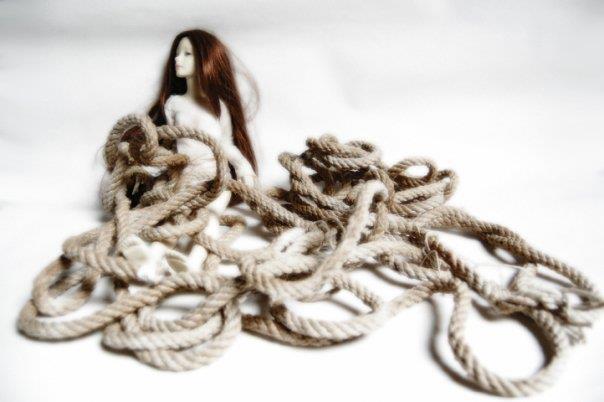 …
Poisoned Ivy
About Barbara Agreste
…