…
Virginia Woolf
…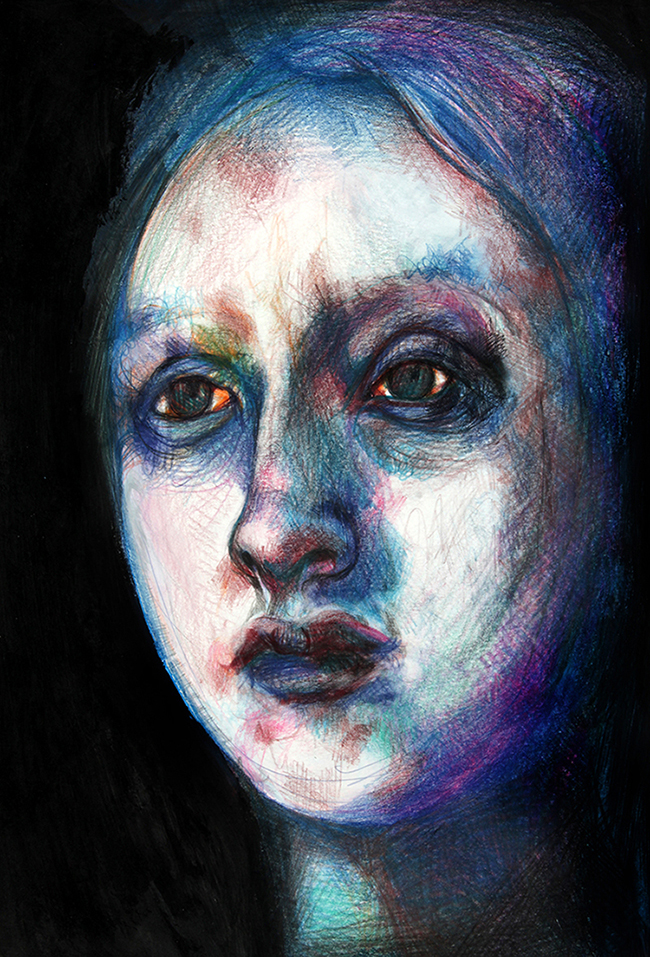 …
Virginia Woolf
…
Drawing Series, Woman's face 3,
pastels and acrylics on acid-free paper
by Barbara Agreste.
…
Virginia Woolf and her story.
I will never understand Virginia Woolf's story, I mean the way it ended. As with Ophelia, the fictional character from Shakespeare, I will analyse Virginia Woolf's suicide this time. Why am I interested in it? Because it is something I fail to understand completely, and surely to imagine how such an act of removing oneself's life is possible, I would have to dig deeply into the reasons beyond it.
…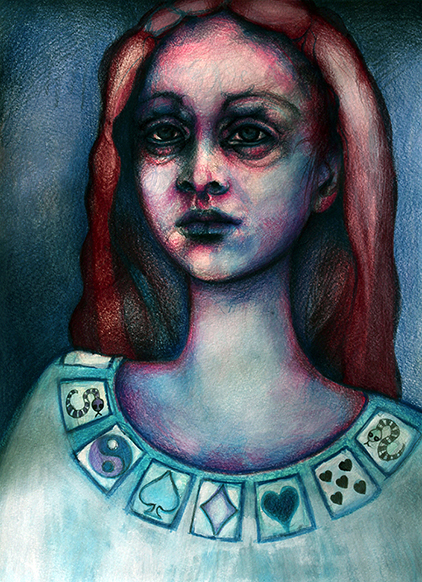 …
Ruby Red Hair, Tao,
and Playing Cards.
…
Ruby Red Hair: Drawing Series – pastels on acid free paper.
This is a drawing of a woman with Ruby Red Hair, or vivid dark red hair: she is the icon of wild nature when the human meets with the darkest and most enigmatic side of the earth. The carmine, vivid crimson colour of her hair represents a particular moment in time when her  menstrual cycle is in the bleeding phase. This phase is very strange: the hair of the woman hasn't always been red, but when the bleeding time comes, her hair turns suddenly carmine,
…
Pastels on
acid free paper
24 x 35 cm
Blue Mermaid
…
A mermaid (Blue Mermaid) is a legendary aquatic creature with the upper body of a female human and the tail of a fish. Mermaids appear in the folklore of many cultures worldwide.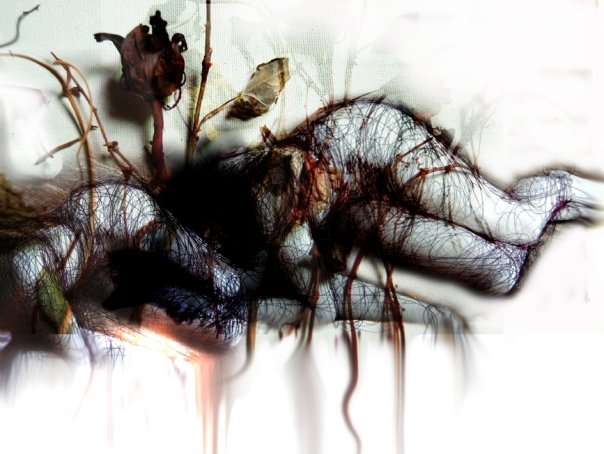 …
Lella Grace

…
Lella Grace – In the last two weeks I haven't been able to speak to anyone about my feelings, nor to write anything, now I took the courage, and I'm finally letting out my thoughts.
I knew you since long time, but I only really knew your heart and mind recently. From that point on I never stopped dreaming about spending more time with you, never forgetting the happiness and freedom I felt the evening I met you by chance, and the potential of the two of us combined.
Dark Pop Surrealism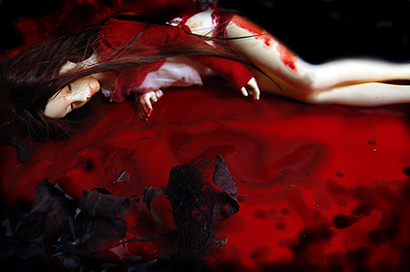 Dark Pop Surrealism
Dolls are surreal, dark and today they have come to represent perfect, endless, but also lifeless beauty. I must also add "voiceless beauty" too, since a doll doesn't speak. I have used dolls several times in my images in the attempt to emphasize the fact that a woman in many situations is seen and treated as a doll. But, if a doll is voiceless, would images of dolls speak any sort of truth about them?
…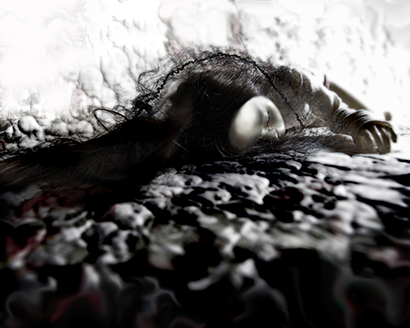 Nigredo Blackness
The Catharsis of Ophelia
Nigredo Blackness. Today I looked at some of my digital paintings from the Nigredo series, and I found out that many of them were left unfinished. I was especially interested in one of those images, the one that best represents the Nigredo phase, one that has actually a lot of black matter in it, an almost entirely black and white piece.
…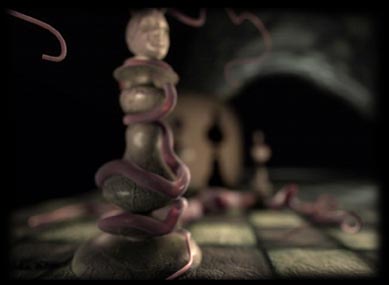 I
love

dolls

.

If I could I would buy an entire collection of them: dolls of all kinds.
It was very interesting to discover that there are so many dolls out there in the market, just by searching on the internet I found entire forums on dolls, not Barbies, but many versions of the most refined, strange, and unusual dolls for collection.
Three years ago I bought a doll from Korea, a beautiful piece of art, and with it I made a lot of digital and oil paintings. I am still doing it, my research with the doll seems to have no end, I have infinite questions for the doll, therefore I keep photographing it.
…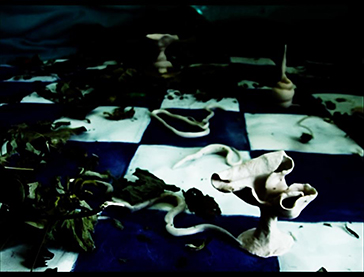 …
Barbara Agreste's animation short "Reptilica" has been recently transferred to film.
…
 Reptilica was made in 2005.
…
To produce this animation Barbara Agreste rented a digital camera, and built a box about one meter long and eighty centimeters high using wood sticks, plywood sheets, and painting a sheet of paper to make a multifaceted floor. That way Reptilica begun, with "fimo" plastic that was used to sculpt worms, and a lot of dry leaves, flowers, and seeds thrown at the set to decorate a sinister and surreal closed environment.
…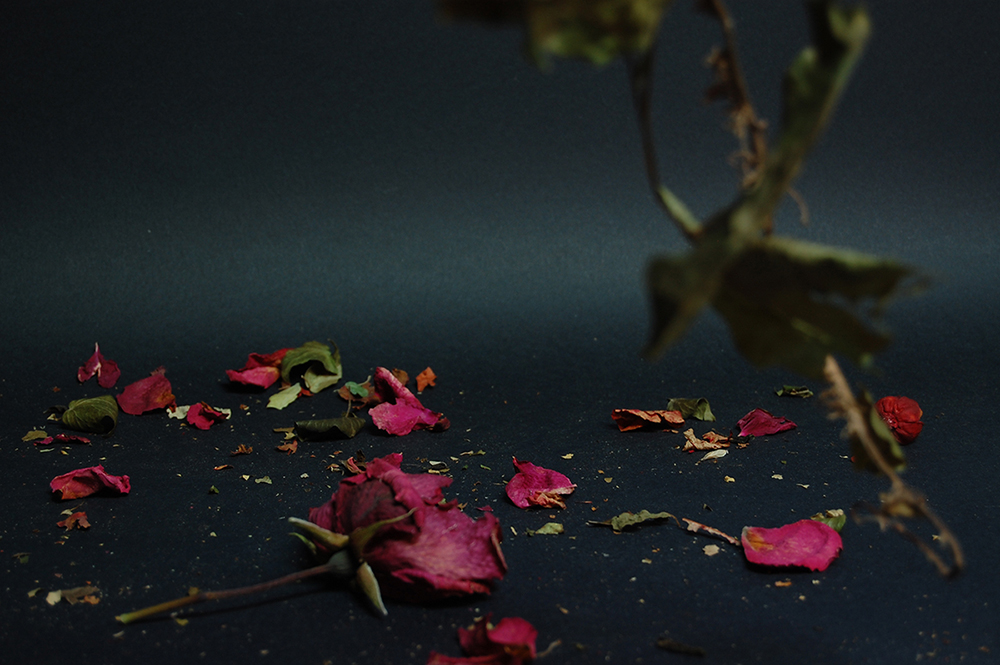 …
Barbara Agreste, post-surrealist artist, much appreciated abroad for her VideoArt, is presenting for the exhibition "The sharing of difference" four paintings that dwell on the subtle dreamy line that separates life and death.
Her figures have no peace, and are representative of the uncertainty and anxiety of the contemporary human soul.
…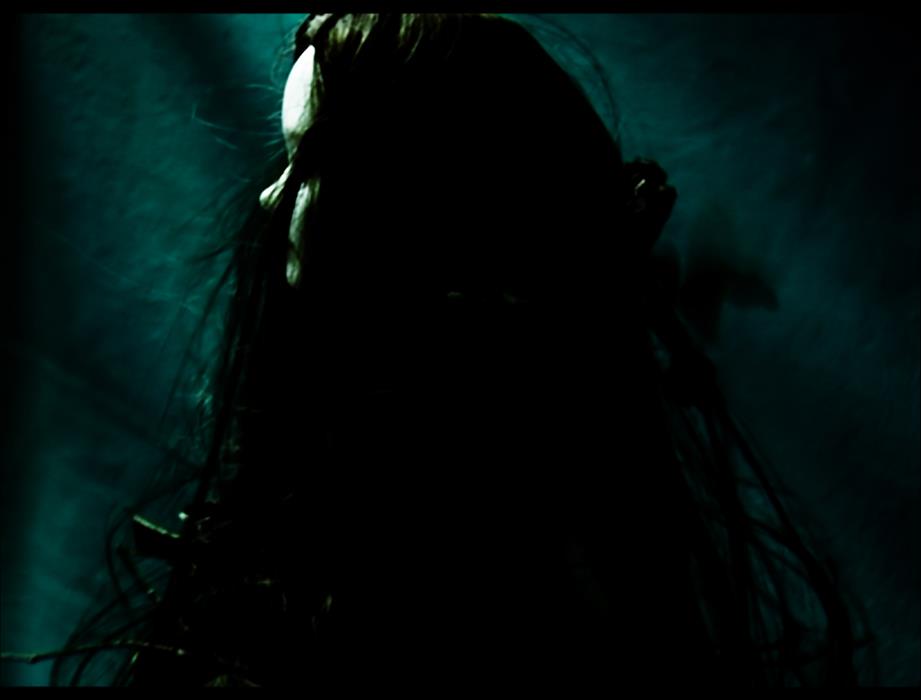 …
…
Alice' inverted reality
Barbara Agreste's art can be defined as a multifaceted philosopher stone. Her creations are an intense and almost infinite work of layering thin petals and other transparent material one on top of the other, closely looking into reconstructing lost patterns, and existing forms with new colors, as if behind every object an unidentifiable amount blood is about to flow.