Rain
…
…
Rain

Synopsis:
In this video the Rain is made out of blood: a constant red rain falls on the vegetation of the town.
Here the concept of violence is not expressed literally with scenes of cruelty, but it is symbolically represented by the never ending rain that exists through the all duration of the film. This video does not present a resolution to this sad scenario, there are only few moments in which the rain stops, and leaves violently shaken by the wind moving in slow motion inhabit the screen.
The violence of the wind is here only a preface to another sad paragraph of rain. Rain starts with bunch of dry leaves and branches that fall on the floor to subsequently draw the attention to a garden where we see some blood dripping on the grass, and hear a sound of two single notes echoing; at every change of scene there is the falling of a red flower, a brunch or a seed making a sudden dry noise.
This kind of object-falling represents a loss or a sacrifice, or even a sudden waking, that always brings us back to the observing of the red rain. This video does not present a narrative with a beginning, a middle point, and a resolutive end, but it confronts us with the same action repeated over and over in different places, therefore ironically it is like a vinyl record playing always the same music.
The irony of the content adds to the well thought composition of the images, and to the dynamism of some shots: this beautiful imagery is contradicted, and although coexists with the discomfort of the viewing of blood.
…
Rain review:
This video, with its bright and lively colors, it is a cry of fear and a request for help, the symbolic staging of what is really happening around us. An uninterrupted and unexpected rain striking for its mercilessness, for the harshness with which it presents us the real conditions of the environment around us. How not to feel it on, we are those crushed and suffering leaves under a rain from which we cannot escape, a rain that leaves its mark as an indelible stain, the symptom of our wrong daily actions. "Nature" is alone uder this rain like a soulless object, and we are part of it too.
…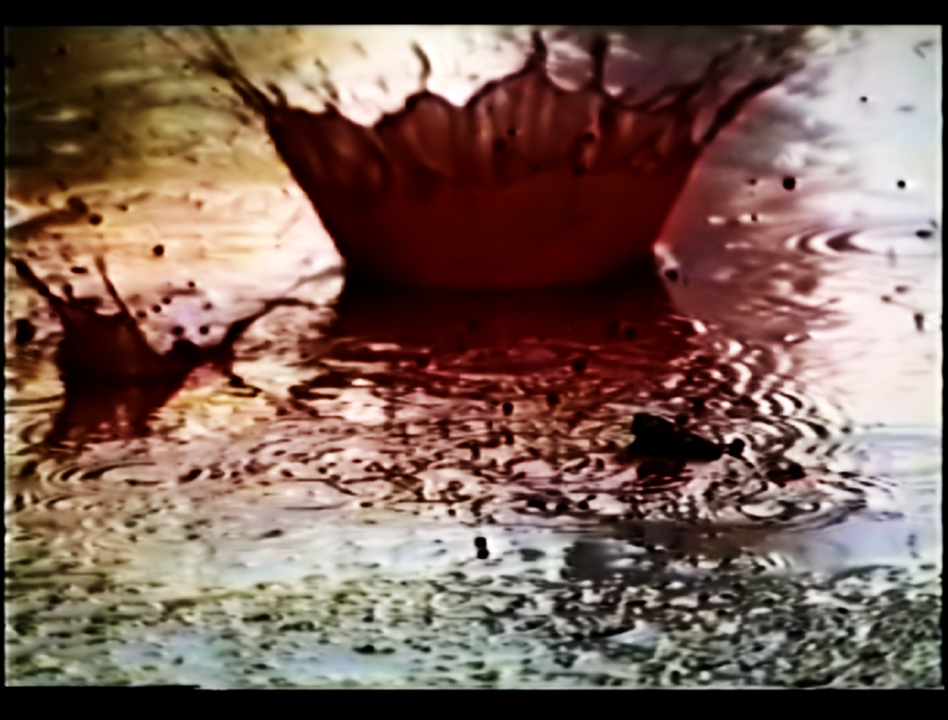 …
Rain Sinossi (ITA)
In questo video la pioggia non è fatta di acqua ma di sangue, una pioggia costante che cade sulle foglie e sulla vegetazione della città. Questo video non presenta una risoluzione alla violenza che esprime, una violenza espressa solo dalla pioggia sanguigna e non una rappresentazione letterale di tale concetto: la pioggia continua a cadere, non si ferma e non finisce mai, ci sono soltanto dei momenti di tregua a questa cascata innaturale ed essi sono gli spezzoni nei quali si vedono foglie e rami agitati dal vento in modo molto violento che si muovono al rallentatore.
Anche qui la violenza del vento, il modo in cui esso scuote i rami è notevole, e rappresenta una lotta che si risolve sempre con il sangue delle scene successive. Sebbene sembra che il vento sui rami sia una tregua al continuo sgocciolare, non c'è fine alla tortura e si ritorna sempre a guardare cadere la pioggia rossa. Il video inizia con un gruppo di foglie e rami che cadono per poi spostare l'attenzione su un prato dove piove sangue, immagine accompagnata da una musica di sottofondo che ripete due sole note. Ad ogni cambio di scena c'è il cadere di un ramo o di un fiore rosso accompagnato da un rumore secco, che alterna scene di sgocciolare di sangue su foglie secche a scene di pioggia copiosa su foglie verdi. Ci sono momenti in cui si introducono inquadrature di piante scricchiolanti, fino ad arrivare alla scena rallentata della scossa di vento dove l'immagine delle piante perde i colori caldi e si presenta monocromatica con toni verdastri. La caduta dei fiori rossi rappresenta, così come le gocce, un sacrificio, una perdita o un risveglio improvviso, e quindi tutti gli elementi che si dirigono verso il terreno, seppur diversi fra loro, si equivalgono e fungono da stacco per l'inizio di un altro triste paragrafo di pioggia. Questo video non presenta una narrativa lineare dove c'è un inizio, uno svolgersi degli eventi centrale ed una risoluzione finale, bensì nel suo costante mettere in piano sempre la stessa azione riproposta in luoghi diversi, esso è paragonabile ad un disco che gira all'infinito ed ironicamente suona sempre la stessa musica. L'ironia del contenuto si somma ad un'impostazione a tratti dinamica e a tratti ricercata dell'immagine: la poetica del "bello" si contraddice con un messaggio cruento che non trova mai sbocco positivo e la sua contemplazione paradossalmente si bilancia con il disagio della visione.
…
Rain recensione (ITA)
Il Video, con i suoi colori brillanti e vivi, è un grido di paura e una richiesta d'aiuto, la simbolica messa in scena di ciò che realmente sta accadendo intorno a noi. Una pioggia inaspettata e ininterrotta che colpisce per la sua spietatezza, per la crudezza con la quale ci mette a confronto con le reali condizioni dell'ambiente intorno a noi. Come fare a non sentirsela addosso, siamo quelle foglie stropicciate e sofferenti, sotto una pioggia dalla quale non ci si può riparare, una pioggia che lascia il segno, come macchia indelebile, e che è sintomo di un agire sbagliato e condizionato dalle nostre azioni quotidiane. La natura è sola sotto la pioggia e diventa un oggetto senz'anima, ricordiamoci però che anche noi facciamo parte di essa.
…