Art Shake Festival
…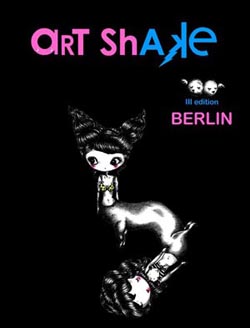 …
1 Night of 15 Video Installations, Performance and Live Set
ART SHAKE Festival: Contemporary arts festival Created and directed by Emanuela De Notariis
…
ART SHAKE Festival III edition BERLIN
curated by Fabio Campagna
Saturday November 27th, h 19.00
performance h 21:30
91mQ Art Project Space
Landsberger Allee 54 – Berlino
www.91mq.org
www.artshakefestival.blogspot.com
…
The third edition of ART SHAKE Festival is nomadic, changed and changing being born from the instability of existence. It spreads like a virus, deadly to the lethargy of feelings only, and after its successful one week event in Rome, takes new life in Berlin. Where in 91 mQ Art Project Space it presents a one day event with videoart, performance and music, conceived as a synergetic exchange between the two cities.
ART SHAKE Festival promotes art characterized by hybrid languages and multiplicity of media, able to soothe the wounds of reality with wonder.
A fil rouge connects the different arts, all made of the blood of the controversial age we are living in. They metabolize conflicts and uneasiness of our age, skinning it and gutting its socio-cultural superstructures. And then sewing new skins over it, made of imagination.
Today blogs and poetry, comics and art history are all equal sources of inspiration, masters of a language of signs with an highly sensitive power, remedies made of imaginary, for a schizoid society.
November 27th, 2010
…
ARTISTS:
…
Performance:
Ambra Pittoni – Yusuke Yamasaki – Square Noises
curated by Fabio Campagna
Video:
Barbara Agreste – Andreco – Elena Bellantoni – Alessandro Cannistrà – Ericailcane – Azzurra De Gregorio – Francesca Fini – Marco Giani – Emanuele Kabu – Luca Manes – Emiliano Monaco – Marco Morandi – Carlo Michele Schirinzi – Cosimo Terlizzi – Virgilio Villoresi Curated by Emanuela De Notariis
…
**** PERFORMANCE
Ambra Pittoni, Yusuke Yamasaki: Dance is not for ever
SQUARE NOISES: untiteld

…
VIDEOART
Barbara Agreste – Reptilica
(My white flesh is their flesh, my hair is a support for leaves, that look like small fragments of me I keep searching for, restless, inside your thoughts, washing them into my unconscious, that gives birth to your best nightmares.)
Andreco: Sonata d'organi in fa (Self portrait)
Elena Bellantoni: The fugitive
Alessandro Cannistrà: Shameless eyes
Ericailcane: Ammazzarne 1 per educarne 100
Azzurra De Gregorio: Virgen
Francesca Fini: Latin Lover
Marco Giani: Memory of the world
Luca Manes: 2160°
Emiliano Monaco: La dolce vita
Marco Morandi: Feed me rainbows
Carlo Michele Schirinzi: Notturno Stenopeico
Cosimo Terlizzi: Beauty
Virgilio Villoresi: Rotten flowers
web sites:
ArtShake: Rome – Berlin
www.91mq.org
www.artshakefestival.blogspot.com
…
ART SHAKE Festival Berlin
…