MACRO Museum: digital audiovisions
..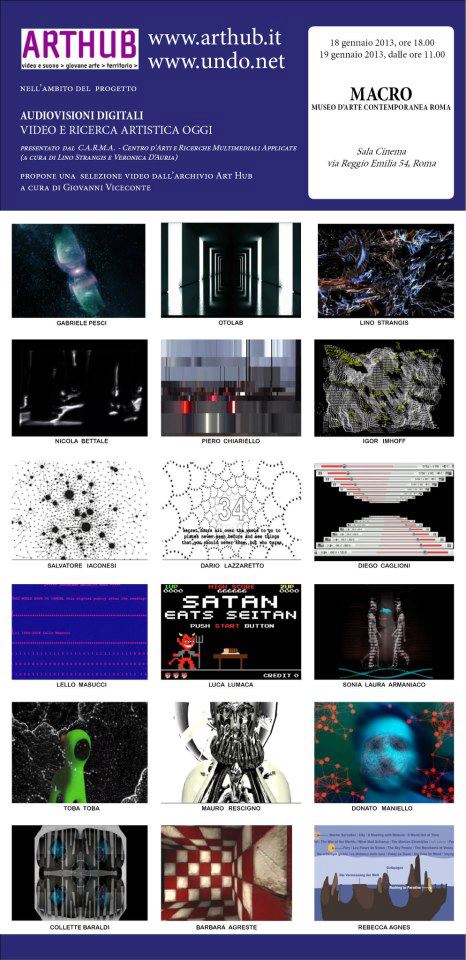 …
MACRO Museum of contemporary Art of
Rome
presents:
…
"digital audiovisions, video and artistic research today"

18 -19 January 2013
…
Curated by: Lino Strangis, Veronica D'Auria, Giovanni Viceconte.
The perfect opportunity to experience the best video art at MACRO Museum, from the international art scene, with an eye close to the Italian productions. Organized by CARMA – Center for Applied Multimedia Art and Research, in collaboration with Art-Hub UnDo.Net, the screening will take place in the prestigious museum's cinema, and debates will alternate to presentations and screenings.

Two curatorial selections made specifically for MACRO are going to be on show: one by Giovanni Viceconte (curator of the project Art Hub – 2video and specializing in digital arts), which has chosen video works from the online arthub.it archive (project designed and conducted by UnDo.Net) and the second (ed. Le Momo Electronique) consisting of a series of new productions from the CARMA archive.
On Saturday 19th a rich selection of the most interesting artworks produced internationally from 2005 to the present time will be screened all day (during the all opening time of the Museum). 
Artists:
Rebecca Agnes, Barbara Agreste, Alessandro Amaducci, Sonia Laura Armaniaco, Colette Baraldi, Nicola Bettale, Diego Caglioni, Piero Chiariello, Nhieu Do, Guglielmo Emmolo, Mattias Harenstam, Salvatore Iaconesi, Igor Imhoff, Dario Lazzaretto, Donato Maniello, Lello Masucci, Luca Lumaca, Otolab, Gabriele Pesci, Arash Radpour, Mauro Rescigno, Lino Strangis, Toba Toba.
MACRO, Sala Cinema,
via Reggio Emilia 54, Rome
Friday 18th January from 6 to 9 PM; Saturday 19th January from 11 Am to 10 PM
www.museomacro.org, +39 06 67 10 70 400
C.A.R.M.A. http://www.carmaweb.org
http://www.facebook.com/assCARMA
info@carmaweb.org
Press Office:
Veronica D'Auria, veronica.dauria@gmail.com
MACRO Museum of contemporary Art