Toys What a Pleasure…
…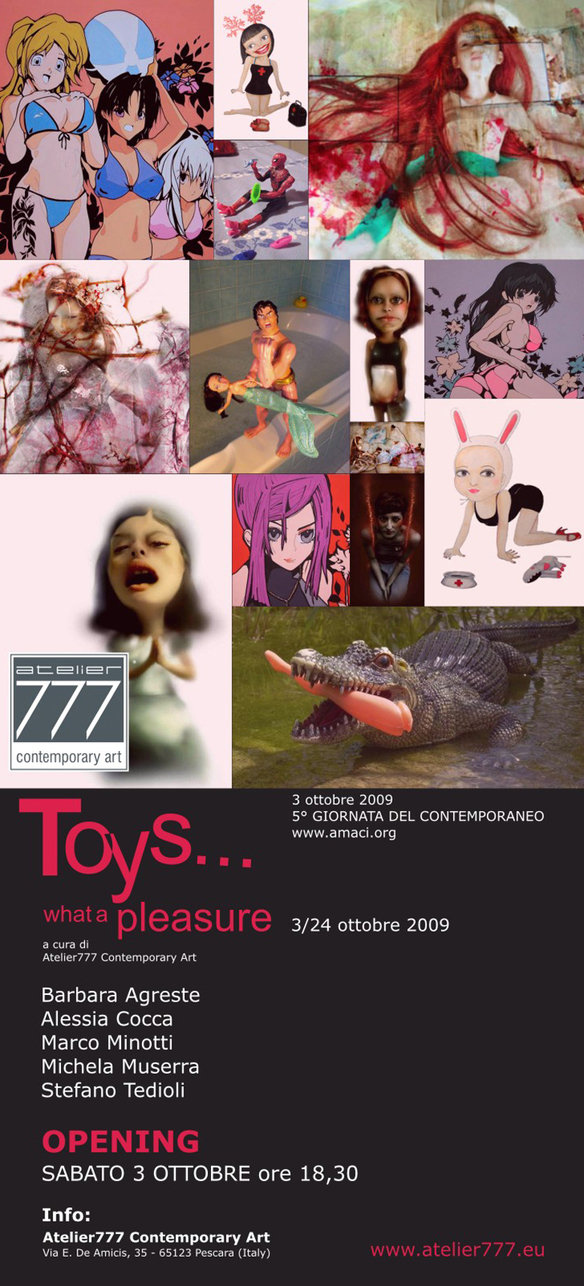 Toys

… What a

Pleasure
 …
"Toys…what a pleasure"
this exhibition will take place on the 3rd to the 24rth of October 2009, with five artists:
…
Barbara Agreste
Alessia Cocca
Michele Musera
Marco Minotti
Stefano Teodoli
…
"TOYS … What a pleasure" is a cheerful and amusing presentation of visual references about the diversity and complementarity of painting, photography, installation and video, in search of a "world of irony and lightness" and of a childish imaginary full of memories, so alive in each of us.
A world, perhaps far from everyday life, but one that for each of us represents a secret treasure of meanings and allusions, that inevitably merge and overlap to life concerns of modern life.
The works will create a synergy and a dialogue with the viewers, playing with and entertaining them.
This is a small "playground" which is destabilizing the classic austere concept of "high" art.
Toys, cartoon characters, and dolls, become absolute protagonists of surreal narratives, where fiction and paradox, create a comparison between the small scale of these characters and the greatness of real things.
The artists, linked to a narrative mixture of mass culture and neo-pop, each one with their own strong artistic identity, tell us about their feelings, and about their own life through symbols, toys and playful visions.
The artists are retrieving those models and icons that belonged to their youth: from the cartoon heroes, to the world of dolls, to the puppets, and the plushes.
Links to memory and playful childhood occur in Alessia Cocca's works, from the fall of the "first tooth", in which comes back to life the moment of loss and possessive feelings, or as to the true movie sets by Stefano Tedioli, in which toys are "actors thrown to the crowd, eaten by the real world, which is dangerous, unknown and outside."
And if for Marco Minotti the Manga characters reproduce "human" scenarios and feelings, set in a floral environment of a reinvented nature, with its obvious pop flavour, the same kind of nature (with its sounds, lights, signs and smells) overwhelms the movements and life of the doll, which for Barbara Agreste recalls the complex world of the female figure. Her videos tell us about intimate personal experiences and emotions.
Finally, for Michele Muserra the dolls are "women dressed as girls who pretend naivety and purity, or girls dressed as women playing with a concept of malice and cynicism that really does not belong to them".
Angelo Raffaele Villani
…
ATELIER 777
VIA DEAMICIS, 35
PESCARA, Italy
Tel.085/2191095
E-MAIL: gallery@atelier77.eu
…