…
It was very interesting to discover that there are so many dolls out there in the market, just by searching on the internet I found entire forums on dolls, not Barbies, but many versions of the most refined, strange, and unusual dolls for collection.
Three years ago I bought a doll from Korea, a beautiful piece of art, and with it I made a lot of digital and oil paintings. I am still doing it, my research with the doll seems to have no end, I have infinite questions for the doll, therefore I keep photographing it.
Because of the fact that my doll was actually designed by another artist, I had to digitally modify her face features in the photographs. If I hadn't done that, I would probably have made my artwork about somebody else's art. So the figure in my paintings look slightly different from how the original doll looks (the original is basically not recognizable).
All of my artwork with dolls can be viewed at: www.bambee.org
Why do I like dolls so much? I suppose because they are creepy. If you think about antique porcelain dolls, there is something so sinister about them that it is worth looking deeper into the subject and ask yourself why this is. As humans we are all sinister as much as those dolls who were made to represent us.
As God may have created humans to match his or her own image and semblance, humans have created dolls in the same manner, to stand in the place of God, only to realize that whatever could resemble their image returned the mortal aspect of them. A doll is a broken love. A doll is a token from the past, a leftover, an envelope, a shell…
It reminds me that I used to be a child once upon a time, a nice well dressed cuddled child, so fragile and so defenseless, so pliable: the doll mirrors back to me all of these things. Even thought the doll is just an object, if I put on it a beautiful dress I can have the feeling of having returned to a time of happiness and love when the radiant eyes of the child expect things to go right: they expect life to be forever wonderful and dreamy.
Some women may identify so much with dolls because they have got two or more characteristics in common with them. One of these characteristics is the "object". A woman placed like an ornament in a golden house feels similar to a doll. A beautiful woman may ask herself if she looks like one: beauty is the other common feature, fragility the third, a doll is easily unmounted, and women's physical strenght is weaker than men's.
The fragility of a doll is mixed with its sinister beauty and misterious, hidden, and forgotten soul: the unresponsive imagined soul of the mystified object. They make me think about something or someone forgotten long time ago that starts to walk and glance back again. The doll's eyes are vacuous, and this is terribly creepy, and terribly sad if I identify with that look, and put my own past in there.
Are women supposed to have a soul, a subjectivity completely free from the subliminal and interwoven ties placed by the continuous quest for how to be perfect like a doll, good like a doll, frozen like one? Can the subject, deeply identifying with an object as such, exist without a residual internal conflict, without inevitably feeling like a container or a leftover? Is it possible to be both human and plastic?
I'll keep putting make-up on the dolls I find… And I'll keep taking pictures of them.
…
…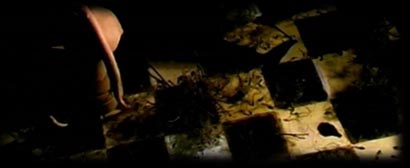 …
The chessboard is a playground. Visually a floor with no patterns would convey the feeling of inconsistency: it could become a slippery floor, one with no reference points, no distinction between near and far, and maybe no clear divide between the sky and the earth.
The checkered floor indicates me precisely where it begins and where it ends, it also makes me recognize any of its irregularities, the lines that cross it make me be sure of bumps and holes, I feel secure on it, and I would definitely better dance with my feet on it rather than choose a one color floor.
It is an horizontal plane traced with charcoal, and painted with thick varnish: the Chessboard, the place where precise and well thought moves are to be made by many pieces. A large checkered floor with actors as elements of the game, could be the parody of a real life battle.
Imagine to stand on this kind of floor, or on a big chessboard where the squares are sufficiently big to contain comfortably both feet of an individual, then you would impersonate one of the pieces of this game: standing there would mean waiting for some check from anywhere, and anytime to come and scatter you away, you are then playing a "life game".
Look out for your life, be really careful not to stand on the Bishop's path, or the Tower's: remember how all the others pieces move, and in what direction they'll go…
In my video "The Tower Trilogy", the first part is about a frenetic and intermittent movement of the head of a doll child, trying to deceive and escape from this kind of dangerous external merciless check. It is a mortal check, but until it really comes in, you don't really know where it comes from, as it always gets its targets by surprise.
Years ago I was observing a friend of mine performing a strange game with his life: after seeing that I decided to set up a scene in my video that would have to convey a sense of "insecure position", representing an endangered and uncontrolled state in a mad and exessively fast world of betrayal.
This kind of position on the red spot of the checkered floor would have to be clear: the "self", the piece owned by the viewer, is exposed and threatened by an invisible checker at any time… The Trilogy is about the "loss of control", a theme that I kept following and developing throughout all of my video work.
The loss of control is a major subject in my visual research, and it is thanks to the possibility of making the images "move" with film and video, that I've been able to represent this concept the way I wanted.
…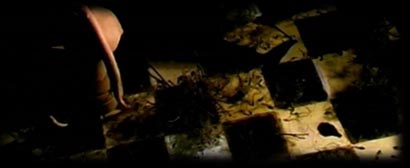 …
…
…
…
…
…
In this video the Rain is made out of blood: a constant red rain falls on the vegetation of the town.
Here the concept of violence is not expressed literally with scenes of cruelty, but it is symbolically represented by the never ending rain that exists through the all duration of the film. This video does not present a resolution to this sad scenario, there are only few moments in which the rain stops, and leaves violently shaken by the wind moving in slow motion inhabit the screen.
The violence of the wind is here only a preface to another sad paragraph of rain. Rain starts with bunch of dry leaves and brunches that fall on the floor to subsequently draw the attention to a garden where we see some blood dripping on the grass, and hear a sound of two single notes echoing; at every change of scene there is the falling of a red flower, a brunch or a seed making a sudden dry noise.
This kind of object-falling represents a loss or a sacrifice, or even a sudden waking, that always brings us back to the observing of the red rain. This video does not present a narrative with a beginning, a middle point, and a resolutive end, but it confronts us with the same action repeated over and over in different places, therefore ironically it is like a vinyl record playing always the same music.
The irony of the content adds to the well thought composition of the images, and to the dynamism of some shots: this beautiful imagery is contradicted, and although coexists with the discomfort of the viewing of blood.
…
…
…
…
My film Cyanide has had a peculiar beginning. It originated from a period of my life of extreme depression, and uncertainty, and it was an action I was performing every day that made me think about developing the more predominant images of this film.
I was cycling in the winter through a path covered in dead leaves. I found myself going many times back and forwards along the same path: the leaves had fallen over it from the trees that grew at its right side, and there were so many of them arranged in a rather ordinate way. They cached my eye many times, they nearly became a fixation to me: the vision of these leaves coming towards me and passing by, as I drove away, became very important.
They surely must have had a meaning which I could not grasp, but they were also nice to look at, and shiny. I could not find an answer to many of the questions about my life at that time, and usually, when things get so hard, I tend to turn to images for a possible explanation, or an answer; it might sound silly, but things, objects, images, places can talk to you, even if they do not communicate through spoken language, neither they are rational or clear, even if they only give you a hint, or a confused indication, they can help you to put the events you are experiencing in a different perspective.
I do not know today the meaning of those leaves, but looking at them was enough to make me develop Cyanide.
…
Maybe Cyanide is about the world that's being poisoned, but there is more to it. It is about acknowledging death: observing up to nausea everything you do not understand, or that bit that puzzles your mind. Many leaves on the footpath may mean a repeating pattern, a recurring event, the same signification over and over through a crazy  journey. Once you have printed into your consciousness that particular shape you can start to remember about it in order to recognize it the next time it crosses your way. That is why the many leaves wouldn't go away… Even if they are the supreme detached element, it is their image that would not really detach. A residual part of the dying thing had to stick to my head as departure and separation is always a painful experience. It is possible that the sticky image of whatever is "gone" is just an anchor, a secure place, for the stability of what stays close: that bit that cannot afford to go within the subject. There are no limits to what can go wrong, in fact in this video, as well as the many repeating patterns, occasionally other frightening elements appeared on my imaginary way: those red bones are reminiscent of previously consumed meals, crashed mirrors of impacts, and keys are the possibility of a way out. What is left within the self, together with all its impressions and images, is the way out to freedom. It is very hard to see freedom into such a dark and constrained scenery, with trashed particles, and that unbearable sense of claustrophobia, there is no clean rain here to clear dust from the mourning stage, and the rain is black and mean, in fact the last action does not suggest freedom at all, it rather looks more like a total eradication of the "walking being", the viewer/author is pushed away together with the large amount of leaves, the search for a way out is only an imagined  possibility here, only a hope behind the door…
Pessimism in art is always an attempt to make viewers aware of the worst possible unfolding of the events.
In my artwork I always alternate the figure of a real woman to the one of a doll. Reptilica is a good example of it: the real woman is always appearing in fast cuts, and close ups, small parts of her body, usually feet, legs and hands are shown in the frame.
The doll on the other hand appears in her entire figure: there is a rich variety of objects that can be put beside her, and it is very easy to create a setting using miniature elements, it also becomes more interesting to to look at weird reproductions, or distorted reflections of what surrounds us, like if the film frame and what it contains became a parody of the real world.
If you own a video camera, you can basically film anything around you, but most of the times, if the film is not focused, or structured, and if the shots are taken at random, on the streets for example, the outcome can really become uninteresting, too common, too obvious, or too flat.
With an artist a film can become a world of wonder, and treasures, if the right attention is given to the actual images that are shot. With only a medium sized box for instance, filmmakers can do amazing things, without the need to go outside their own house, the choice of objects, backgrounds and combinations is infinite.
The camera becomes the tool through which whatever existed as very tiny idea inside the artist's mind transforms into a visual construct which simulates a real space, with depth, corners, colors, and life.
A film is mainly made of images. A filmmaker has to understand images, therefore photography is the key factor, how to make even only one photograph is very important when the time comes for shooting a film. A film is a succession of moving images, dancing images, rushing images, thunder images, storming images…
The succession of frames could be fragmented and a possible narrative could be nonsensical or distorted only thanks to the way a film is edited. A film is something to be done with a focus in mind because the camera will then be used to "focusing on things", a very important part of filmaking is the "close up".
If you really know how to put together a number of close ups, then you've understood a lot about how to make a film, a landscape is better drawn and packaged by oil painters, they will definitely do a better job with it, unless you have a wonderful setting constructed in a studio, never zoom out too much when some movement is happening in the scene, if you don't want to bore the viewers, and if you haven't got the right equipment.
Anyway, this "close up strategy" is what has worked for me, please note that even in the Hollywood studios a lot of shots are taken with the help of miniature settings, or computer generated 3D animation.
Why a lot of artists have this attachment and fascination for fairy tales? A rabbit in a box recalls Lewis Carrol's Alice in Wonderland, and this particular story is very dear to artist today, as I have seen many interpretations of the characters and the objects taken from this story. Animation, paintings, surreal art, many authors dig into this imaginary world of the unconscious which is often found in the content of fairy tales.
…
…
The Tower Trilogy has three titles that originated in Italian: "La Torre, Le Formiche, Lo Specchio" and they translate this way in english : "The Tower, The Insects, The Mirror". This animation is made with 16 mm film, and DV video, and it is very abstract although some figures appear on the screen at some points.
It is a work in which I explore the state of hysteria. The first piece, "La Torre", is a 3D animation presenting a claustrophobic space in which some objects rotate on themselves on a chequered floor. In this piece there is an atmosphere of emergency and "loss of control": the doll's head spins on itself faster and faster in this dark space where a sense of prisony and oppression is staged by the absence of windows or doors, and a first stage of hysteria here  is identified with the worms crossing the room.
The theme of hysteria manifests more overtly in the struggle of the second section "Le Formiche", in which a succession of images of shaking hair, falling flowers, black paint on canvas, and frenetic body movements inhabit the screen. With the obsessive shaking of the head of a real performer, this part also represents a moment of denial but at the same time a process of purification.
The third part of the trilogy, "Lo Specchio", revolves around the theme of death in a settings very similar to the first piece "La Torre", just this time the atmosphere in the room with the chequered floor has changed, because the struggle and the tension are now gone. Also the light is different, from night it has become day, the sunlight reached the room as if a window finally opened up in it.
While some dead flowers keep falling from the sky/ceiling together with fragments of mirror making a dry sound, everything else is unmoving until we see an outburst of rain: the sole element that can clean and restore hope to the sense of anguish of the entire film.
…
…
The Checkered Tunnel is a animation made entirely with 3D software. This short movie represents a fragmented space made of a chequered tunnel where the squares that fill its walls, floor, and ceiling alternate from red to white (the colour red is a metaphor for trauma).
At the opening of the piece the point of view of the spectator (the camera) is turning on itself in a chequered room with a missing wall leading to a black void. The camera moves back and forward unsure if to dive into the unknown darkness, or to stay in the trapping room with no other exits. Once the camera makes its move into the dark void, it suddenly encounters a chequered woman (her skin looking like the surrounding space reminds us of the chameleon's mimicry) that soon goes out of the frame to enter a tunnel full of curved metal surfaces and mirrors.
This trip into a fragmented reality full of intense lights and reflections that, like obstacles, have to be avoided, and that create a blinding effect, ends into a bigger room which looks like a real chessboard where a chess piece with a woman's head on its top (The Queen), trapped into a muddle of slowly moving worms, turns on itself while the other objects nearby – a dice, and some bishops – rest motionless.
The atmosphere of this place is surreal, the camera at one point turns away from The Queen and moves forward towards a cylindrical container with some illegible words printed on it, before moving into the dark exit of the room.
…
…
Reptilica is partly animation  and partly a film where real people perform. It Starts with a doll which is animated with the stop motion technique, she is searching through the many dry leaves that rest on the floor, something she has seen or felt passing by, but she can't seem to find it.
Other scenes in the movie introduce small pink worms falling on a group of ivy leaves, these are the disturbing presence that bother the doll as they sneak under the leaves, never letting themselves to be seen. These worms might be imaginary creatures belonging to the same fragmented body of the doll/woman.
The doll's actions alternate with those of a real woman, which is also searching through the leaves, and her movements at some stage of the film become frenetic: she tries to cover her body with the plants as if to operate an impossible symbiosis with nature.