…
…
Barbara Agreste has been making art since when very young: she used to live with her family in a house up on the hills in an far land surrounded by a forest; her drawings were inspired by fairy tales and by the vegetation and the creatures living in that landscape. When she attended the art college in the closest town, she learned life and architectural drawing techniques, and her work became more structured.
Inquietudine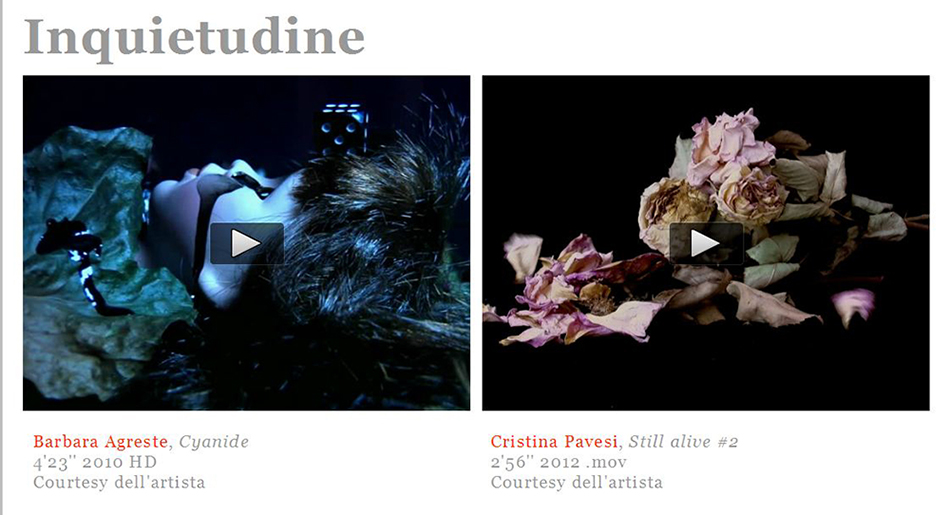 Inquietudine


…




Inquetudine Video Art event.

Inquietudine – Selection by Giovanni Viceconte
…
This week we will have on show 2video Inquietudine hosted on the undo.net online magazine, and curatorial platform. 2video is a weekly exhibition that presents two video art pieces put together by video artists from all around the world. This week we are featuring "Cyanide" by Barbara Agreste and "Still Alive" by Cristina Pavesi.
…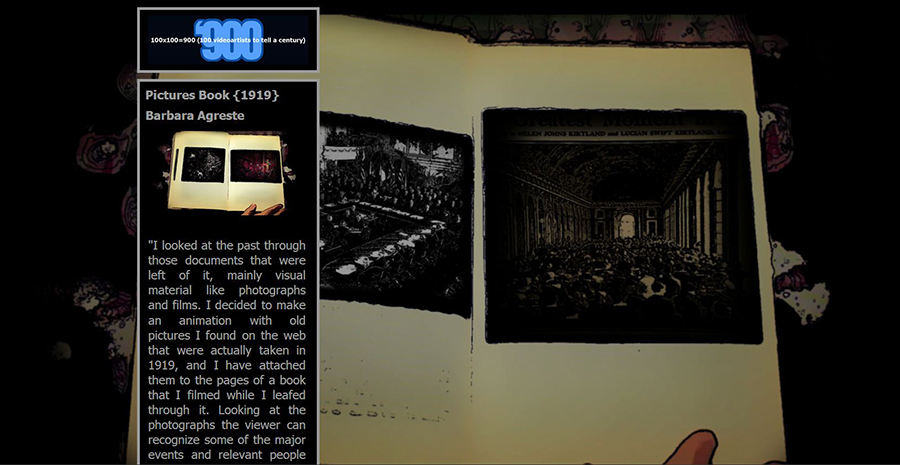 …
100×100=900


100 videoartists to tell a century
…
Human life passes through two fundamental seasons, youthfulness and adulthood. We become what we have been. This is true for individuals, as well as communities.
The american videoartist Bill Viola said that: "The digital era will overwhelm us, as it happened with the industrial revolution. And I am not talking about technological changes, such as the internet, Twitter or in art. The changes will hit all of life: from politics to science, from medicine to culture. Will change our way of life. The role of artists will be even more relevant. Our vision will communicate knowledge and compassion."
…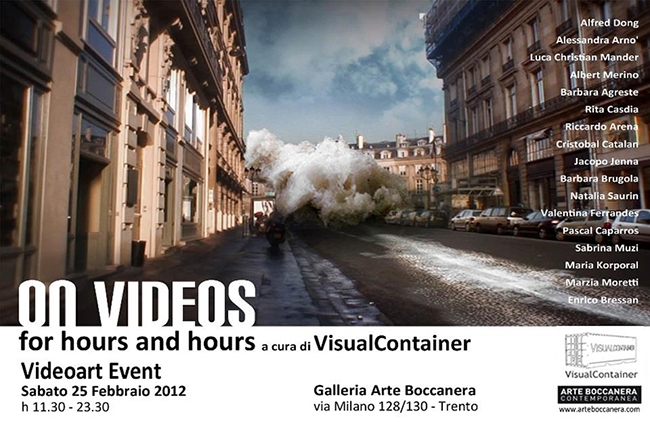 …
ON VIDEOS for hours and hours

Curated by: VisualContainer
A idea of: Giancarlo Sciascia
Arte Boccanera Gallery, Trento, Italy
25 february – 3 march 2012
…
ON VIDEOS for hours and hours
…
A day dedicated to the actual trends of national and international videoart.With screenings from a compilation about the identity of the present-day video languages and times of conversation with the curators.
..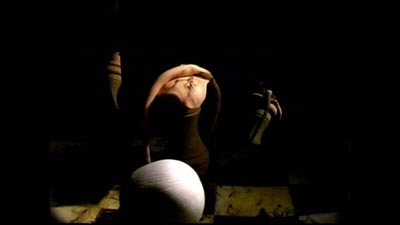 …
Chessboards
The chessboard is a playground. Visually a floor with no patterns would convey the feeling of inconsistency: it could become a slippery floor, one with no reference points, no distinction between near and far, and maybe no clear divide between the sky and the earth.
The checkered floor indicates me precisely where it begins and where it ends, it also makes me recognize any of its irregularities, the lines that cross it make me be sure of bumps and holes, I feel secure on it, and I would definitely better dance with my feet on it rather than choose a one color floor.
…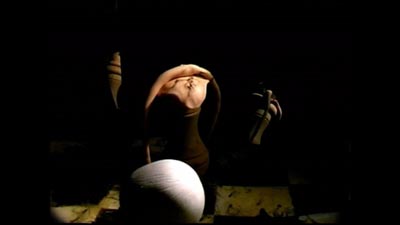 …
…
PIXILERATIONS

[v.7]
New Media Fringe Festival @ FirstWorks.
video art screening
270 Westminster Street Providence,
Rhode Island – USA
September 30-October 10, 2010
in Providence, Rhode Island


PIXILERATIONS [v.7] is a new media showcase in Providence, Rhode Island that investigates the state of new media arts through installations, concert performances and film/video screenings. It is part of the larger FirstWorks Festival (www.first-works.org), a multidimensional performing arts festival held in Providence each fall.